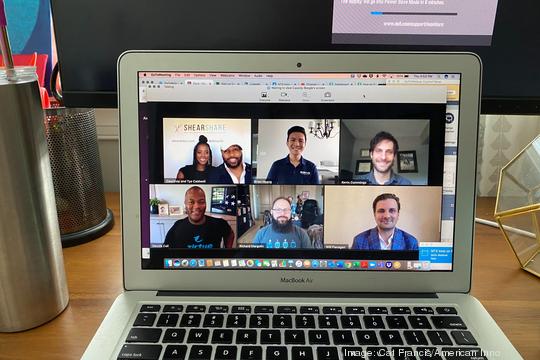 NTX Inno on Fire panel with Dennis Cail (bottom left), co-founder and CEO of Zirtue; Brian Hoang (top middle), CEO of SurviVR; Courtney and Tye Caldwell (top left), co-founders of ShearShare; Richard Margolin (bottom middle), CTO and co-founder of RoboKind; Will Flanagan (bottom right), director of product and strategy at American Inno; and Kevin Cummings (top right), staff writer at NTX Inno.Cat Francis/American Inno

By Kevin Cummings – NTX Inno Staff WriterKevin Cummings covers technology and innovation for NTX Inno.
August 21, 2020, 06:54am CDT
---
While the pandemic kept everyone physically apart, members of the North Texas business, tech and startup communities tuned in on Thursday evening to celebrate the region's most innovative and impactful entrepreneurs at NTX Inno's inaugural Inno on Fire Awards.
The event, highlighting early-stage companies making big moves in the scene and helping make DFW into a serious innovation hub, was the culmination of a months-long process. A while back, we asked the community for nominations. Following through, the community submitted dozens of suggestions for the most "on fire" companies in the ecosystem.
With the help of a panel of judges that included local VCs, accelerator leaders and others active in the tech and innovation scene, we looked at growth, impact, funding, market expansion and more to narrow it down to the 50 hottest companies in North Texas.
And, after tallying up the votes, the Blazer winners – or the top companies or people trailblazing new paths in their industry – were selected in each category.
And the winners are:
Be sure to check out the other NTX Inno on Fire honorees here.
After the excitement of the announcement, we sat down with Dennis Cail, co-founder and CEO of Zirtue; Brian Hoang, CEO of SurviVR; Courtney and Tye Caldwell, co-founders of ShearShare; and Richard Margolin, CTO and co-founder of RoboKind, to talk about how they have grown their companies, navigated the crisis of the pandemic and are positioning themselves for the future ahead.
"Things were looking good and moving really fast… then Covid hit and suddenly all of our customers had no idea what to do," Margolin said at the event.
Like many companies, those on the panel had big plans coming into 2020 that were largely upended by the pandemic. So they found smart pivots and adapted
"People saw their income stop… so we became like a communications center, created 100 pieces of business resources. Helped more than 125 stylists get approved for PPP," Courtney Caldwell said at the event. "We looked at our roadmap and decided to accelerate some things for online. Now our app… we became a distribution channel for brands."
The celebration of North Texas Innovation wouldn't have been possible without the help out NTX Inno's founding partners UT Dallas, Accenture, Thomson Reuters, BDO, as well as the event's sponsoring partner Amica.